I could not take it anymore and I had to get out rain or not. I decided to head to Sargent because I will risk it with only a 30% chance of rain.
After almost getting stuck before I even staterd to fish I found this where I usualy fish.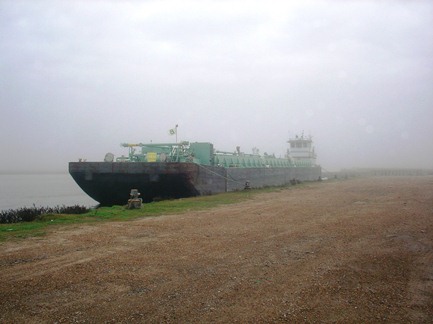 It was a long day in the wind and fog with tons of barge trafic going by was pretty boring. Reeling in all those reels just to avoid loosing tackel or even worse loosing a rod.
Around 4ish I was doing my thing into the water when one of my rods bends in half. After a long battle and getting tanggled with to of my other rods I finally get this monster to the net. It was tough geting her up but I was able too.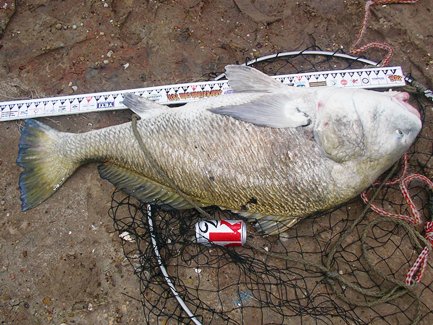 This fish went 45 inches when the tail was pinched.
Look how thick this fish was.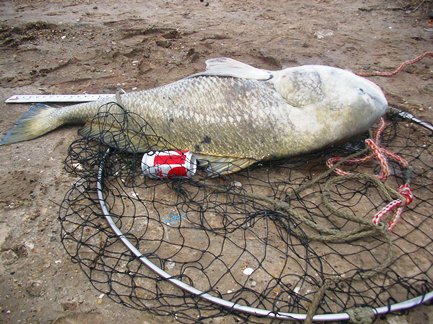 An hour or so later some friends came by and asked if I was catching anything and looking over my sholder he notices another rod bent over and line coming out. I got to the rod and the fight was on. This fish was much easier to land. I had help and that is always better. Here is the picture we took of that fish.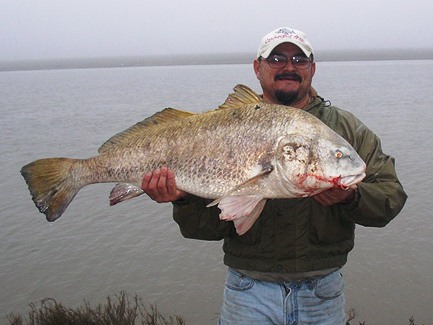 We did not get a chance to measure this one but it too was not to shabby.
The fisrt fish of the year was a GOOD one that makes the MONSTER List!
Until next time, keep dry and warm.
I hope everyone has a great New Year!