I started of by picking up a friendís boy (Alex) and headed out towards Sargent. I had high hopes of finding an easy way back to Mitchellís cut without driving the beach. I wanted to fish the back side of the island into the ICW to see if we could find a place where I could catch redfish and BIG Uglies! The first thing I saw was where they were dredging and really messing up the road to the boat ramp. Not an issue for me because I was not pulling a boat. I had to wait for some massive dump trucks but nothing more. Then I saw a guy in a yellow truck mudding like a maniac. It looked like fun but we were here to find a new place to fish! I started making my way thru the muddy spots and then it happened. I got stuck. So stuck that I thought my 4WD had broken. I was pushjing mud when I opened my door. I got my waders and put them on because I knew it was going to be a muddy experience. Eventually we figured out that it hadnít broken and we (I) just did not get her thru. I looked for lumber to place d the truck and did not find any. Iím in deep now. Some kind guy walked over and said he had told one of the Formanís in the dredging crew if he could assist. He did. I placed my rope on the back of the truck and he proceeded to pull me out with me hitting the gas the whole way in reverse. Thanks Albert! We would not have been able to get back to fishing any earlier without you. It took me $12 to get the mud off the outside of my truck. It was already 11 am and we had not even started fishing. Not cool for sure. I decided to head to my normal fishing spot and see what I could catch. Luckily 30 minutes after I had the rods out the fish began to bite. We proceeded to catch fish every 30 minutes or so afterwordís. they we being picky at first but latter in the day they were really tearing those crabs up! The fish seemed to get bigger as the day went on. Later in the day I had the privilege of having Sharkchum stopping by with his family. We all sat around Bísing and sharing fishing stories while we waited for the fish to bite.

Here are some of the fish we caught.

Alex fighting the first fish of the day!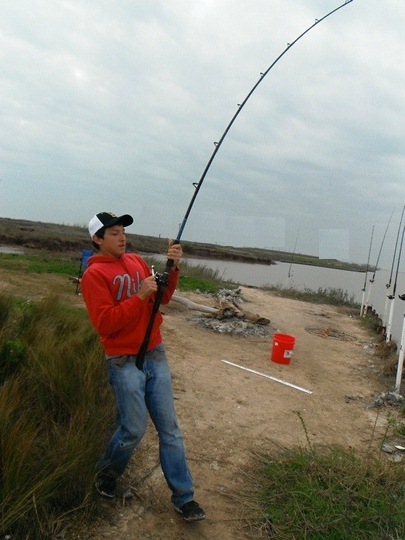 Alex with the first fish of the day!
Now that is UGLY!
The fish not the boy! LOL!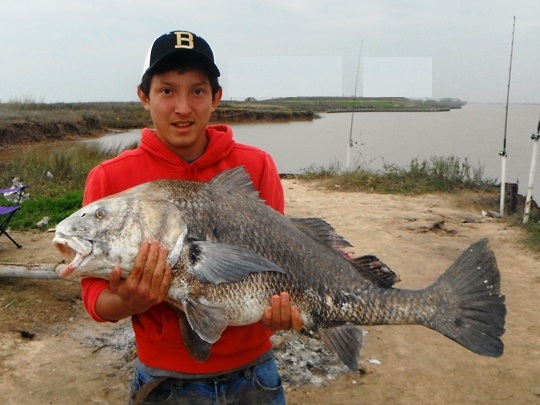 Here he is with another one!
They are getting a little bigger each time.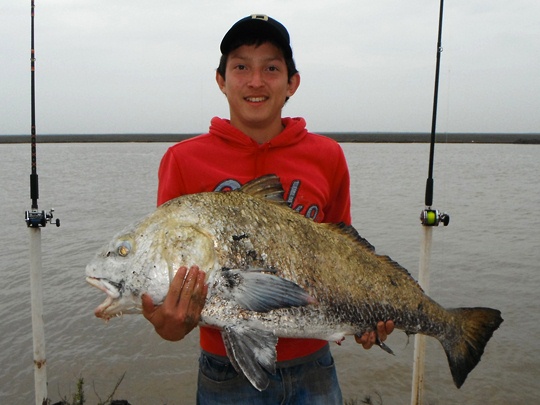 Check this out! It must have been a small one or a sheepshead.
What do you think?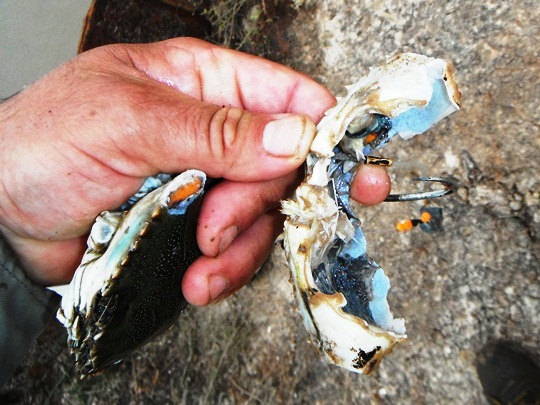 Another good one!
We are on fire!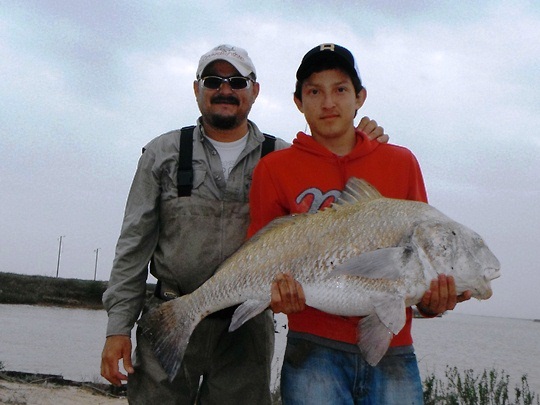 Sharkchum Jr decided to take the next one and this is what he landed!
Nice fish!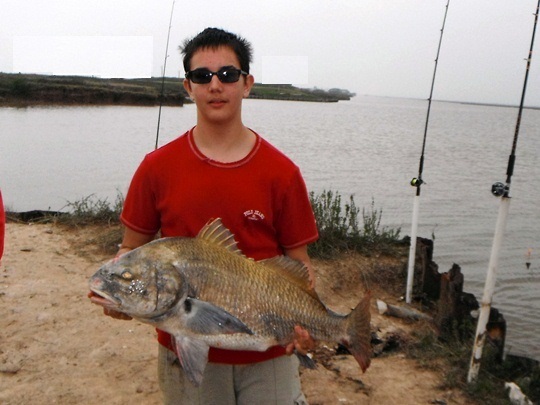 Alex with the largest fish of the day with this FAT 44" black drum.
VERY good fish if I don't say so myself.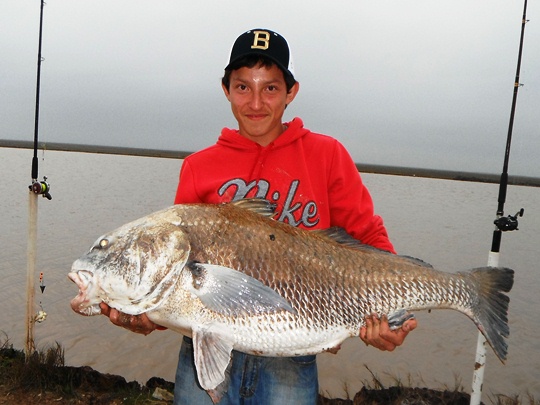 Mrs. Sharkchum decided to get into the action and took this one.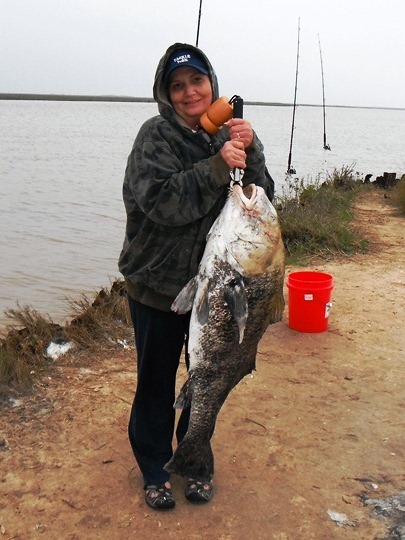 I think Alex will be going with me more often if his DAD let's him.