Almost everyone knows that I take an extended trip to the GISP area every year to go after some Big Uglies. This year is no exception I will be there soon. I usually take an early trip to see if the fish are there before I invite people to go with me. With the extend weekend the girls had Monday off so I took a day of vacation to make it a three day trip. We got a cabin weekend earlier and off we went. Albert is now attending down south but he was able to break away and join us on our getaway. Finding crabs was a bit hard due to the season closure but after calling around I was able to get a few. I also took some of these and froze them for next week. Hopefully they will do for our next trip. I also found some better crabs once I got to Fulton. They were a bit costly ($1.25 each) but they were alive and kicking. After putting in $80 of gas just to get there another $20 is nothing to almost garantee some fish on the pier. That first night the girls went to go visit family further south but Albert and myself head to the pier. The wind was nasty and some people were already where we wanted to fish. We waited a while before we hooked up. We lost the first fish that hit. Guess we were a bit rusty or maybe we were just B'sing too much. We will never know but shortly after re-baiting we had this one on the line. Here is a picture with two winter Texans Don and Bill.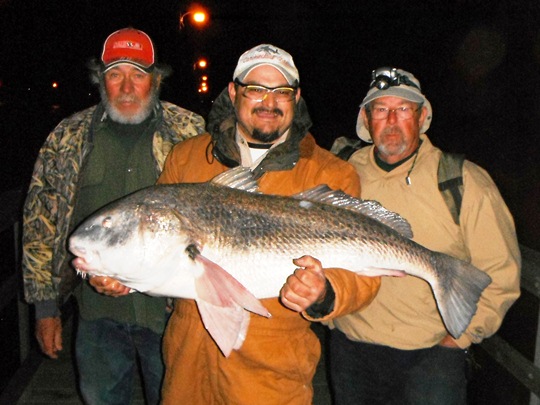 Later that night Albert gets into the game with this one!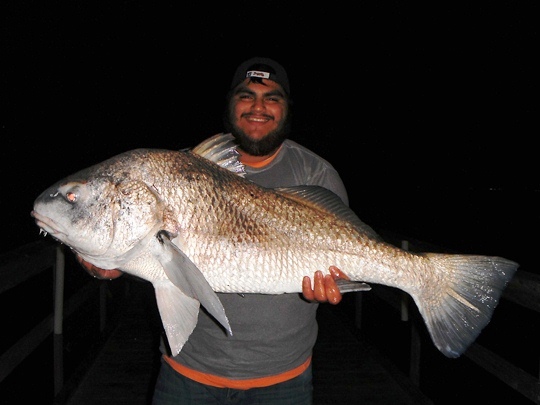 We headed out around midnight to get out of that cold wind! The next day we woke up early (noon) picked up some fried chicken and headed to the pier. We checked out our other places we like to fish but the conditions and reports were not as good as it was on GISP. We get there and set up. Is there really anything better than this?



We were there for a while when we hooked up to a HUGE running fish! Andie took the rod and started fighting the fish like a champ! This is what she ended up with. It was a very hefty 44 incher.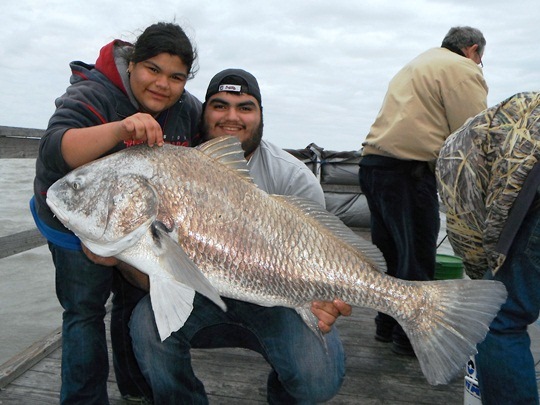 Right before the sun went down a line got slack and Albert was on it before I knew it. This fish was also a good one.



It was getting cold but we ALL took shelter behind our old faithful tarp. That thing has been on more fishing trips than most.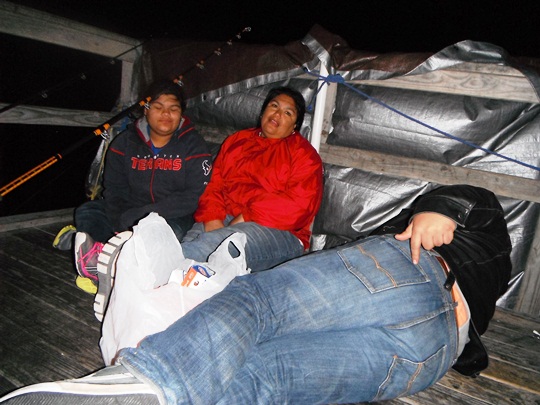 We lost a fish at the net and had one take the bait on a fishy line movement before we were able to put this one on the pier.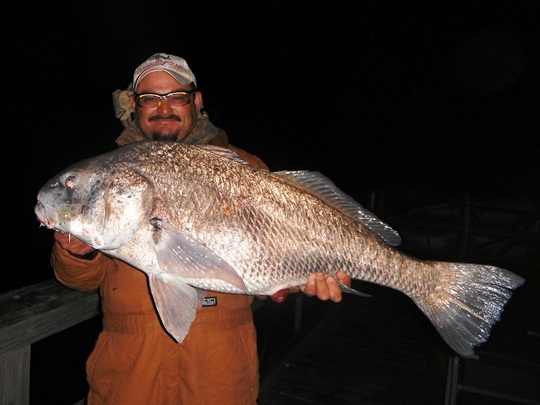 We actually left early because we were not that mad at the fish and confident the fish were actually in. We made it back to the cabin just before the news started. The next day Albert went back to school and the rest of us went on a sienic local trip. We eventually stopped in Port Aransas and were able to catch this slimy fish.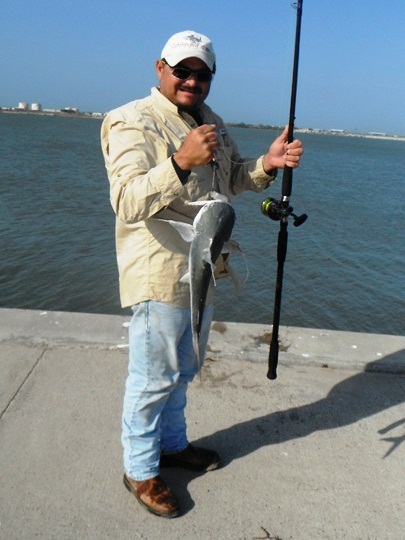 Not a bad trip even though we did not fish that hard. It was pleasant just to get out there again.