Several weeks back a friend from worked said he was free this weekend and if it was possible to show him where some keeper fish were being caught. The only place I knew was McFaddin near Port Author. I called Joe and Sharkhunter and they agreed to go. Joe met me at Sea Pony and Sharkhunter met me on the beach. We picked a productive spot and started fishing. Before Nice 34"+ redfish on the beach. Joe with his boys Ruben and Joe Jr.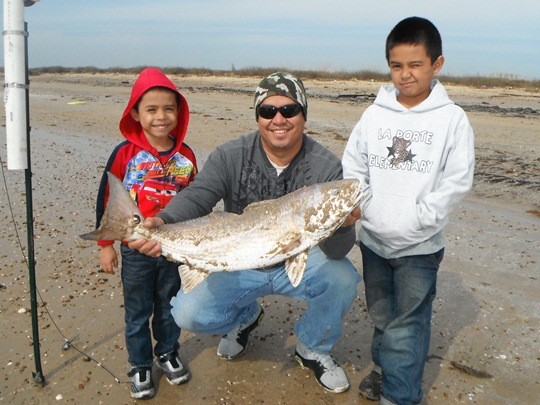 Before I get my rods out I go ask joe what he was using for bait and he had the second fish on the beach.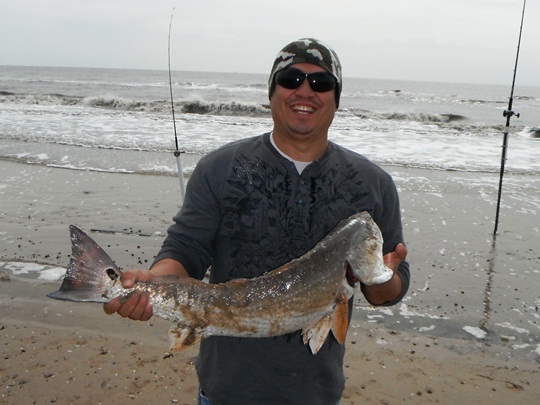 Joe was on fire and I had to find out waht he was using. He like myself had forzen some crabs to get past the yearly crab season closure. Good move my friend! The tide was supposed to come in at around 2:30 but it seemed to be running a bit early. We had a moving tide all day long, we even had to move ALL the rods back 15 yards or so. I hate having to do this with a passion. At this point a bait fish could not be found except for the primo mullet we purchased at Sea Pony. I baited the rods with crabs and mullet and the wait began. I was on the beach debating with Lawrence if I was having a bite or not and I assured him you will know if we had something. Most of the time we just had a chunk of seaweed on the line. Eventually one of the rods bent over in half and I told Lawrence to get a hold of the rod and don't stop reeling. He did as instructed and landed this respectable 33" redfish.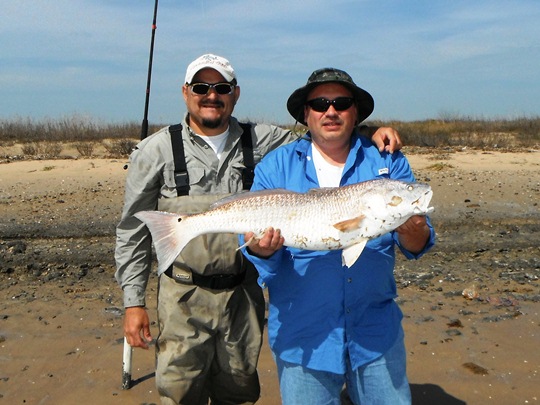 He asked if that one would be good to eat and I said that might be the smallest fish we caught today. He decided to tag and take that one home for some good eating. Too bad for the fish because he was going to be the guest of honor. By this time we had a whiting or two in the box so I placed some chunks on the hooks and sent thim out. It did not take very long before we had another run. This time Lawrence knew how the game was played and he started to fight the next fish. He noticed that this was fighting a bit harder but I told him that it was the rod not the fish. It was a lighter built rod so you could enjoy the fight a bit more. He did and got this fish on on the beach!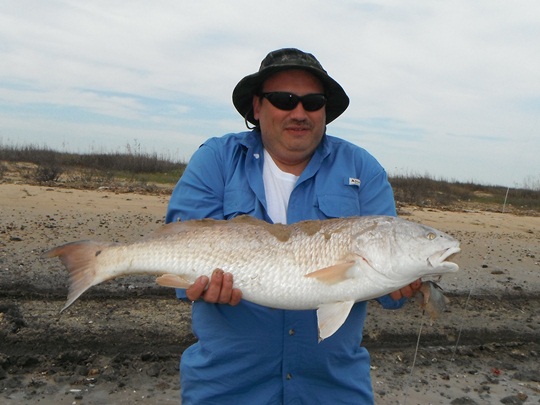 This fish was almost exactly the same size as the first one he caught. Nice fish buddy. After getting the Newly baited rod out I look down the beach and see Hunter reeling in a fish. That little guy is one hard core fishermen. He too brought in a very nice 33"+ redfish which was quickly released after getting this picture.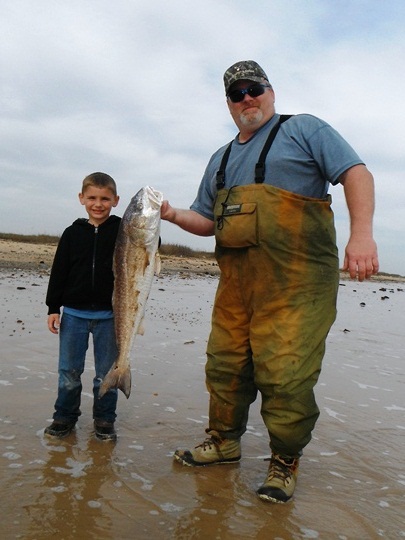 We had to wait a while before the tide started to go out but once it did things started to change. I told Lawrence "Do you smell that? Smell WHAT? Drum. Nah I don't. I do!" He gave me a look like I was crazy and just smelling things. Shortly after that off beat conversation one of the rods started to bend in half and not let up. Lawrence grabbed that rod and proceeded to get the first Big Ugly of the trip on the beach. It was this nice sized dark one.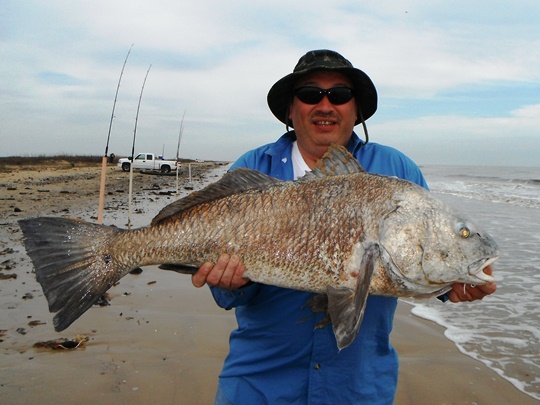 We had several more bumps but no hook ups for about 2 hours. The wind stopped and the mosquitoes started to come out and were starting to become a pain! They kept biting us on the face until we put some spray. It worked but it did not keep me from swallowing one. Eventually we had another good run and Lawrence had another fish on the beach. This one was a bit bigger than the first.



By this tiem we both had agreed that this was a good day and with the exception of the mosquitoes it could really not get any better unless we started to catch some eating sized whiting. We then proceeded putting little pieces of pink FishBites and finger nail sized whiting bellies on the small 1/0 circle hook. I then placed the bait in the 1st gut right behind where the waves were breaking on the shore. Not much latter Lawrence has a monster run on his bait rod. Take a look at this!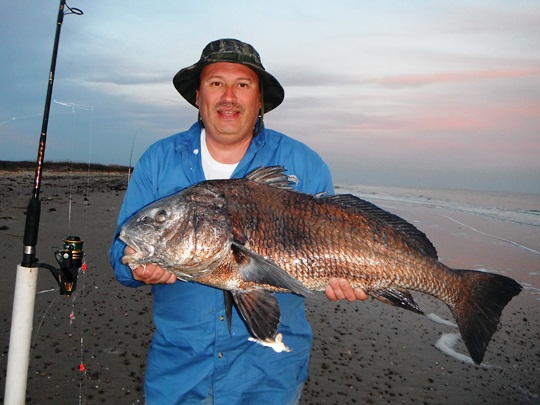 I emailed him at work to tell me what he thought about the trip and this is what he sent back: [i]Fishing has always been one of my favorite pass times. On and off through the years, I have always enjoyed every trip. Well, some more than others. So when the opportunity came to join one of the CatchingBigFish team members on a Saturday trip, I jumped at the opportunity. It is not every day that you get a chance to learn the intricate process of catching these large fish from such a successful group. Of the many things that I learned on this trip, I never expected to learn the true definition of lite tackle.
Like an old companion, I brought my trusty little Penn 4500SS reel with 15 lbs. test, mounted on a 7' Ugly Stik Custom for bait fishing. I had visions of a cooler full of Whiting just waiting to be filleted and fried to perfection for the world's best Po'boy. So, with a hook no larger than a dime and bait only consisting of a finger-nail sized whiting and a small portion of FishBites, I set off to have my Po'boy.
While fishing "lite" tackle only a couple of yards past the first breakers, you expect the pull of a hooked Whiting. That seems normal. You can't imagine my surprise when I realized that the fish on my line was much, much larger than that. No one really expects to catch a 35" Black Drum, not on that rod with the bait in that location and with a hook that small. I have never seen my so much bend in my Ugly Stik. I have never heard my little Penn reel sing to me for so long as line was removed against the drag. Luckily, I had my CatchingBigFish coach with me the whole time giving valuable advice on how a person can actually accomplish this goal. So there it was, several minutes later and I exhausted, lying on the beach. I thought to myself while smiling uncontrollably, "I win."
I wonder what I could catch with my "lite" tackle if I put a real hook on it.[/i]
I think I may have found a new fishing partner. Just can't wait to get him BTB chasing sharks! After swallowing my second mosquitoe of the day I said I had enough!