We all know what the beach conditions have been like for the last two months and I'm getting tired of it. I called up a friend and told him to get ready to fish the bays. I headed south and had a good lunch with my parents. I called Ronnie up to see if he was ready to head out and he already had the boat hooked up. I went over to his house and asked him what the plan was. I thought we were headed to our usual overnight location across the bay in Baffin but that was not the case. Since we are fishing the Blue Wave tournament again this year he wanted to try something new. Pre-fish, if you know what I mean. After a long discussion of where to fished we finally decided to head to the bird island boat ramp and fisnd somewhere to fish there. The trip and launch was uneventful. We head across the bay and start looking for a place to stay the night. We finally agreed on a spot, So I got off the bat and set the anchors. Ronnie started to fish and I went off in search of some fresh mullet. I found the bait but I could not catch any because they were too deep. It seemed that the tide was higher than usual. I get back to the boat without any fresh bait so I was going to have to use what we brought. I start setting up my leaders before it got dark and getting ready for the night. After a bit I find out that Ronnie had caught some decent siked skipjack (ladyfish). OMG! That is some good bait! We had positioned the boat in an area where we would be able to cast to a deep sandbar. Hoping that would be where the fish would be feeding at night. I baited my rods and threw them out. I was trying to take a breather after going trying to get some mullet but I was interrupted when one of my rods had a little tap on it. I kept looking then all of a sudden the rod bends over as if it was going to break. I had trouble getting it out of the rod holder but I got it out. I immediately started to adjust the drag. I thightnen down and the fish kept going. I tightened down 4 times before the fish even slowed. I just kept the pressure on the fish and it eventually slowed. At this point I only had about 3/4 of a spool or less left. The fight went on for about 10-12 minutes and I finally had the fish within 40 yards and she took off again stripping about 60 yards off. We eventually got the fish in the net and she went a whopping 38 inches. Not bad for being caught on 12# test line. This fish was fat. The picture does not do it justice.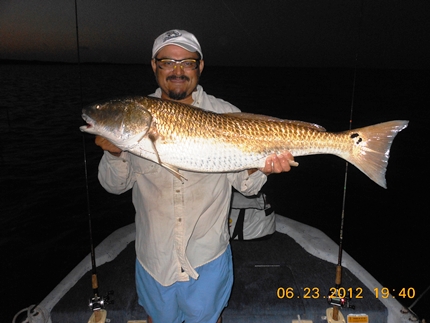 At that point I was ready to come home. Ronnie and I continued to catch undersized trout, reds and drum until he hooks up onto another good fish. He fought the fish until I was able to get it into the net.
Ronnie with a nice 29" redfish which he released.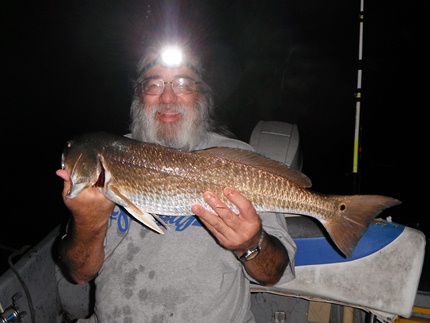 We continue to catch keeper fish all thru the night. A keeper red here a keeper drum there but including Sll the undersized fis hand hardheads we were busy all night long. It seemed that Ronnie only caught the redfish and I was catching the drum.
Ronnie with the the stringer for the night.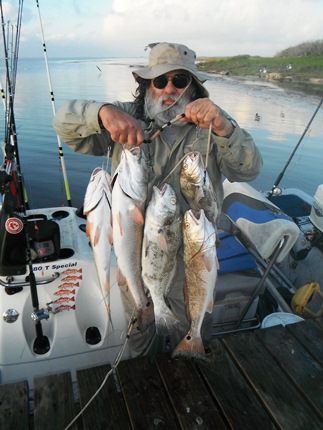 Most people think I release all my fish so here is the proof that I don't.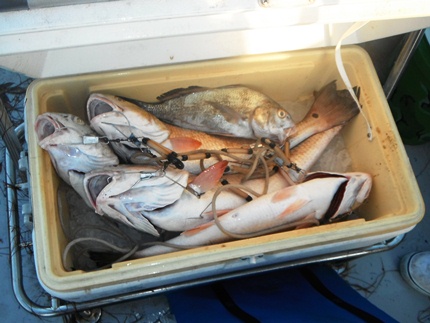 It was a good trip without having to deal with the weed on the beach.