I took the weatherman's word that it would be blowing hard from the north Saturday morning. That was a mistake. I committed to do something other than fishing on that day and I had to keep my word. Saturday was a great looking day and it was killing me not being on the beach. I was going on Sunday regardless. Sunday came around and I was running a bit late. I've been looking for larger fish so I decided to fish a bit further down the beach than we have been on E. Mc Faddin. Joe was already set up and had baits in the water. The high tide was coming in quick. They had already caught 2 bulls but both were on the smallish side. I decided to cast from the beach with bait (whiting and Sand trout) I picked up from Rick at Seapony. I'm glad I did, we could not catch a bait fish to save our lives. I was about to throw out my third rod when my first started to scream. This fish used the current to take me up and down the beach twice before I was able to get her in. 45 inch redfish.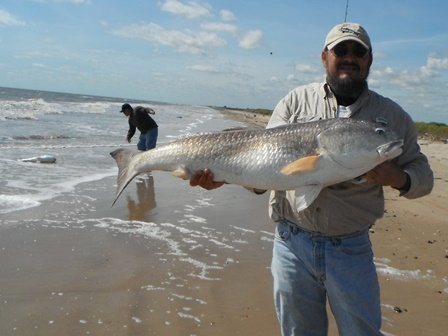 As I was getting the camera my second rod starts to scream like the first. I handed that rod to Joe. John Paul helped me get a good picture while Joe gets himself a fat 44 inch redfish.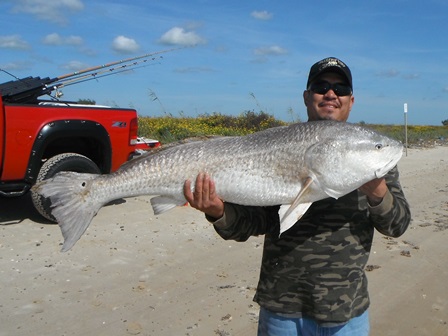 When I was baiting up my rods again John Paul gets into another beast, a fat 43 inch redfish.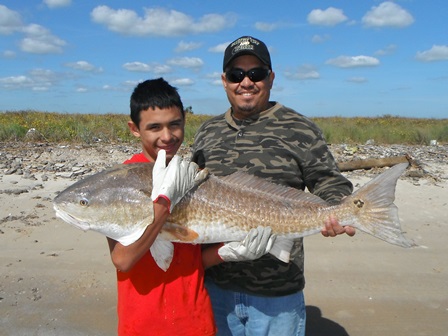 Joe and John Paul head out early and I proceeded to try to catch bait at no avail. It was hopeless fishing in the first gut due to the current and seaweed. I decided to set out one of my lighter rods with a big weight in the back if the first gut. I caught some black drum then this one hit the Fishbites on a cheap double drop. A 32 inch redfish caught on my bait leader with small circle hooks. Yes! I got the orange Fishbites at Seapony too.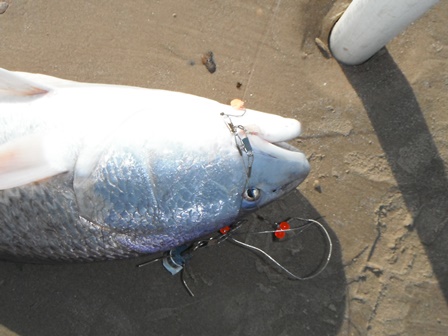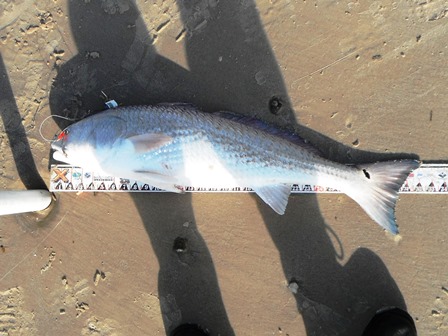 After a bait check I had this 40 inch toad make me work for the last fish (7) of the day.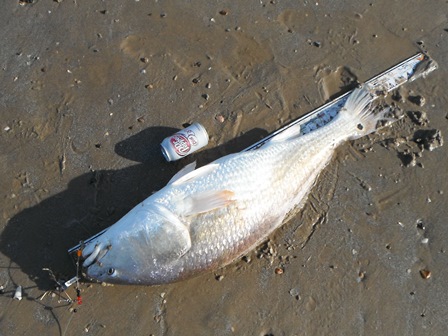 We succeeded in finding our larger fish but I'm not sure if it was the change of location or the fact that the weather changed and brought in the bigger females. Or maybe being so close to the full moon did it?
I want to Thank GOD for all the blessings he has given me, my family and friends.