I called a few friends and we decided to head to Sea Rim to see what was going on. I drove thru a couples of storms and was thinking this was going to be a wet one. We met at Seapony in Winnie and got the best bait around. As we got the park the clouds started to split up and blow offshore. The water was decent but extremely low. All looking good! We set up the rods and waited, and waited, and waited. Bait fish were hard to come by.
Paul went down the beach to see if anyone else was catching anything. NADA!
He checked his baits and look what he had on!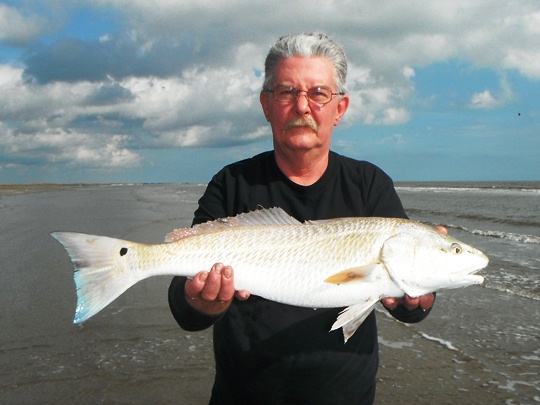 The waiting continued until we had a HUGE run which turned out to be a pelican run! We have all had them before but this one got snagged.
We had fun getting the hook out!!
Not!
Mid afternoon Joe packed up his gear and young boys and headed out.
Paul stuck around until the sun hit the horizon. At this time I rebaited my rods with fresh bait and an old crab that I had.
Shortly after Paul was gone I had a run on the crab. While I was fighting this fish I thought I had crossed my line but it turned out to be a DOUBLE!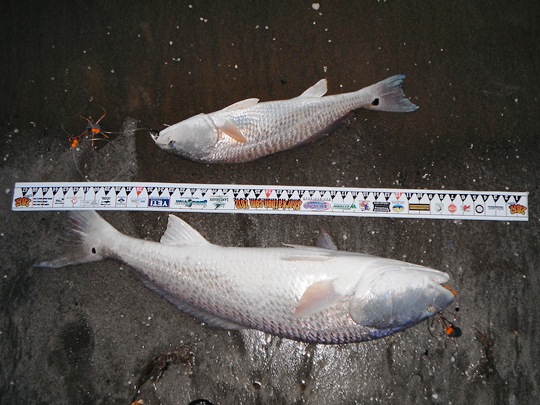 Fishing ALL day and I had two fish at the same time. I rebaited and thought to myself - It's on! It might have been but I was pushed off the beach by the only thing that will send me home!
Mosquitoes!
I hate them!
This is what I had left on me when I got home!