After being all cooped up due to the rain on Friday night it gave me time to repair my net and also find a deal on a cabin on the internet. The girls and myself decided to take advantage of the three day weekend. We headed to Rockport in search of some BIG Uglies! We were in no hurry so we loaded the truck after the rain stopped and headed down south. the wind was unbelievable! 30 mph and gusting to 39 as per the local weather station. We went to Goose Island and drove around then decided to go check in after we grabbed a bite to eat. The wind was depressing but it did not stop me going out after dark. I hit Fulton Pier and was able to land two good fish. It was windy and difficult to cast with the wind and watch for a bite but it all worked fine! 45.5" fat BEAST!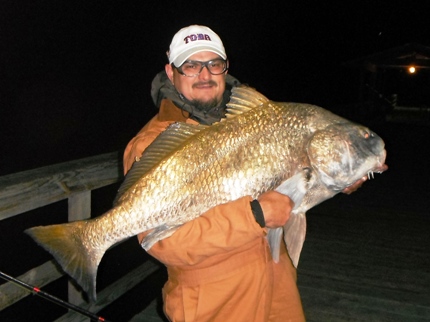 The second day we hit the pier in front of the cabin. We did not get a single bite.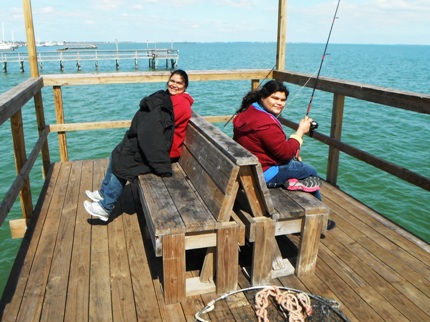 Then we decided to visit the Fulton Mansion. that is an interesting old house.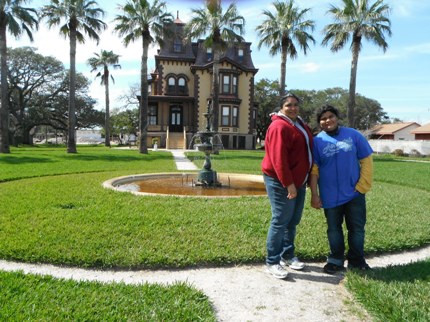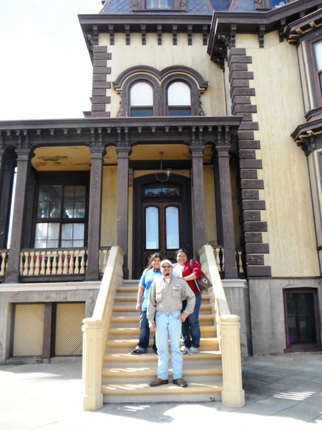 After nappy time I woke up around 8ish and headed out. I was the only person at the end of the pier. I hooked the first fish before I had all the rods out. It was dificult getting the fish into the net and over the railing by myself. I continued until I was exhausted. I would reel in the rods and wait until I was ready to catch another fish. My arms felt like they were going to fall off. I had already decided that fish number 7 would be my last. I had it on then two guys came up and helped me land it. I was gracious. I let them land the next two fish. Then I landed the 10th. that was when I decided to head back to the cabin. #7 drum of the night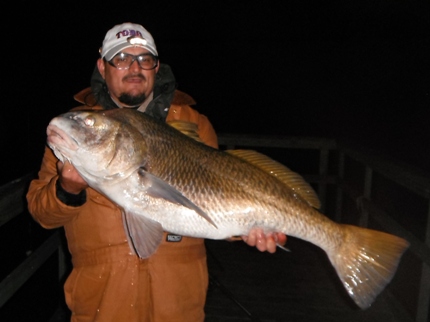 Edgar and his first BU!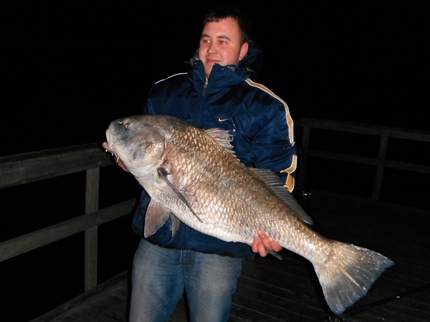 Valdermer with a VERY nice 46" BU! This fish was huge!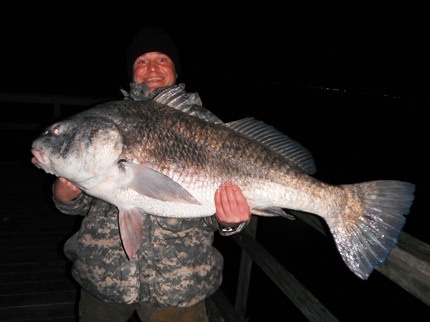 Fish # 10 of the night and 12 of the trip!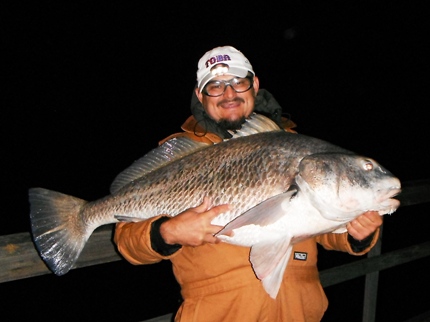 The fish went from 39 to 46 inches and four were BEASTS!