Day TWO!
GISP Pier, Lamar Texas
After sleeping late the girls and I decided to head out an explore old places we used too fish. We went on the ferry to get too Port Aransas and we hit the beach. It was crowded with spring breakers and Winter Texans. The water was clear but rougher than I expected. We checked out the jetties and Horace Caldwell Pier. We fished Roberts park and the Lydian channel without anything to show for it except for a small croaker. We decided to head to the cabin right before dark. We cleaned up a bit and headed to a chinse food restaurant where I ate all I could put down. We saw the Ivones and the Parkers and I told them I would be at the same place but a little later in the night. We got back to the cabin and the girls did
NOT
look like they were eager to head back out anytime soon! I loaded the gear and headed back to the pier. Did I mention that it was so foggy that it was not funny! Everything was wet and slippery!
As I got to where I like to fish I noticed some old men fishing there. I asked if they were having any luck and they really did not respond to me very well. Hum! No problem it must be my long hair and all the tattoos I have that give some people the wrong first impression! (Not that there is anything with long hair and tattoos to me) LOL! One of them did ask I I was going to show them how to catch them. My response was that If the fish were there I would catch one. I proceeded to get my gear ready and I eventually casted the rods out. Meanwhile, the Ivones and the Parkers showed up with a crew. As we sat there BS'ing one of the rods goes slack. I pick it up and the fight was on. Brandon Parker decide to take the rod and look what he brought in! Nice fish Brandon!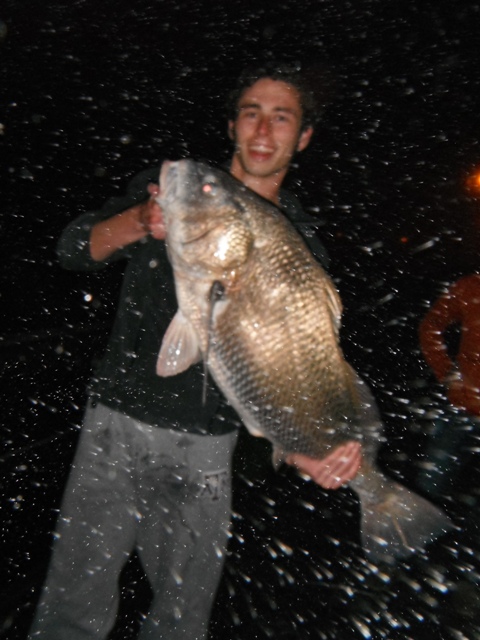 Not long after that another rod takes off screaming. This time Mr. Parker took the rod. We quickly had two big fish on the deck.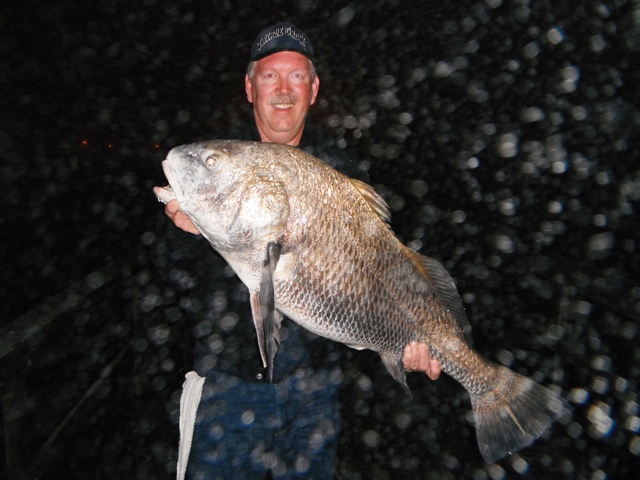 LESSON LEARNED! Be careful who you lend your camera too! I just hate fish on the ground pictures! After Mr. Parkers fish I proceeded catching one fish after another. Most of the pictures looked like this!!!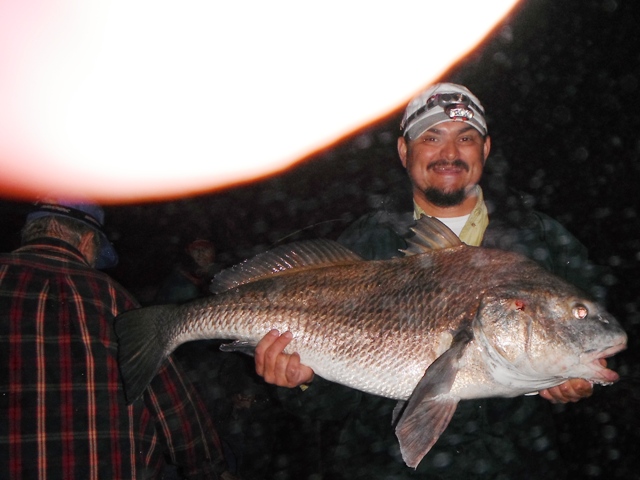 After watching us catch a few fish one of the older gentlemen ask what was I doing to catch those fish. I let him know all that I could tell him. eventually they started catching fish too! For the next hour and a half all I did was help them land their fish. they caught 5 big fish between the there of them. All were respectable black drum. With all the coaching and landing fish I got really tiered and after I got home noticed that I had not taken a single of there fish. Maybe they will send me a picture or too.
I did manage to land this one in all that chaos.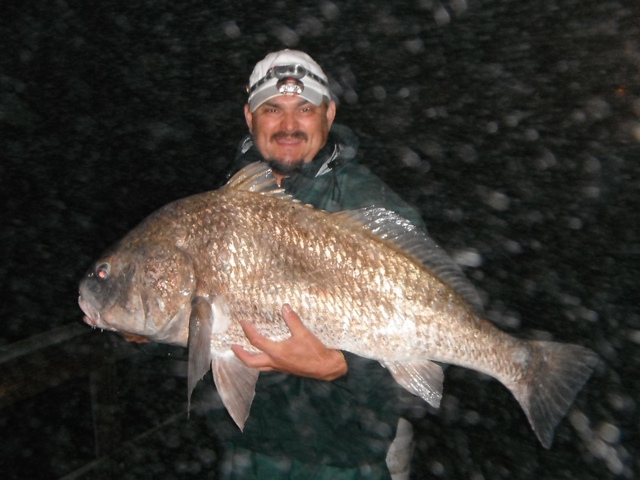 Eventually I packed up and he older guys did too. I was about to walk off the pier and I noticed 2 crabs in the bucket. I was already there and had already gotten my breath back so I said WTH! Out they went. I quickly caught two like this one and went back too the cabin.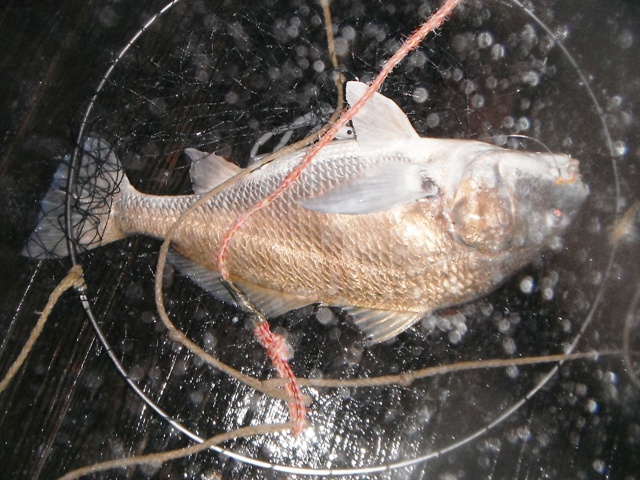 Today we landed a total of 13 BU's with a size ranging from who knows because early in the trip the ruler fell off the pier and I could not retrieve it. All were very nice fish in my book!
The 2012 Spring Break Adventure is not over yet.
Make sure you check out the following days!
Day THREE!
GISP Pier, Lamar Texas
Team C.B.F. scores again!
I thank God for blessings he has given this family!
Until next time God Bless and good luck!
FISH HARD or STAY HOME with your MOMMY!
---