The Story:
Team C.B.F. always goes somewhere to see if we can catch some BIG fish. With the results we had last year at the same time of year we decided to head back to Goose Island State Park. The weather seemed not to be on our side but we had already paid for the cabin so we said what the heck. The girls did not care because the cabin has A/C and cable. Not bad when your roughing it! I didn't care because I will almost fish in any condition. ALMOST! I did have a bit of a hard time finding crabs but I did at one of the places I usually go too. Down south they are selling each crab for $1.75 or more. The crabs almost cost more than the fuel I used going down. LOL! Not really!
Below are the results!
Day ONE!
GISP Pier, Lamar Texas
After a relatively late start due to the lingering rain we eventually make it to the cabins. We rested and not in any hurry we make it to the park after eating a quick meal. We arrive just as a group of people leave the location of the pier that I like fishing the most. Lucky us! I prepared the crabs
like this,
sharpened the hooks then casted the bait into a really heavy wind. We have fished windy days here before but we still caught fish. 15 minutes late we had our first fish of the trip on the deck. Andie had a respectable 42 inch BIG Ugly.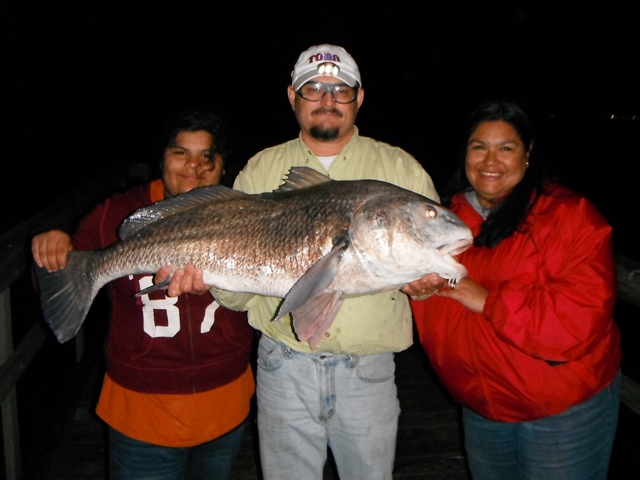 Almost just after we casted out the re-baited rod we had another one go off. This time I let a young man we were BS'ing with take the rod. He fought the fish for a while then he landed this huge fish. Unfortunately he did not want to lift the fish for a good fish picture. I really do not see why? respect the fish Christopher I. Jr. LOL!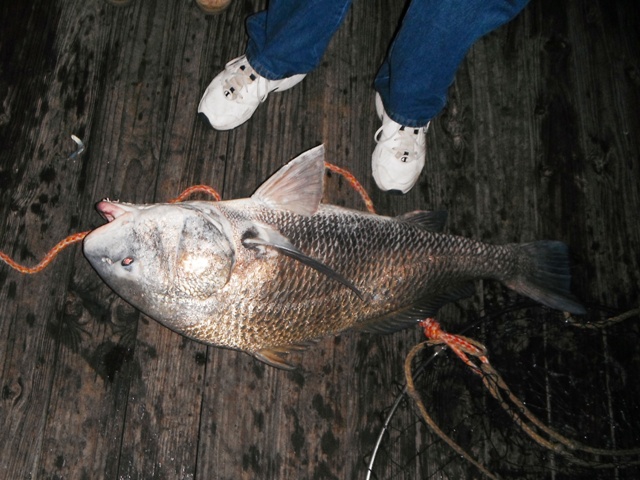 10 minutes after that we had another run and I looked around and the girls looked comfortable where they were sitting. This time Mr. Christopher I. took control. He manhandled the fish and got it onto the pier really quickly. He had no problem respecting the fish!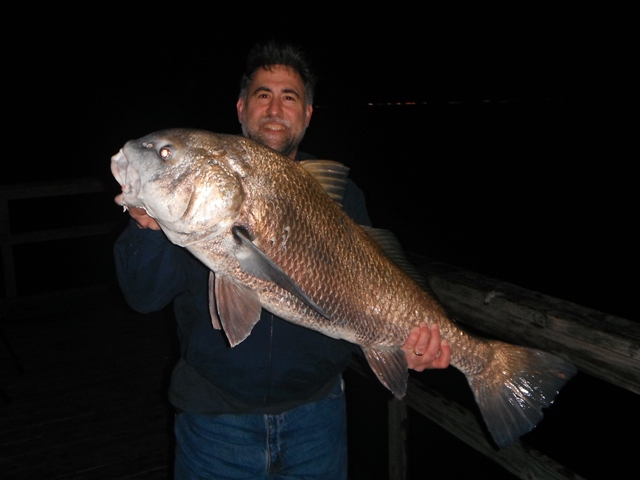 Before I had time to even sit down Andie was reaching for another rod that was heading south. This fish was even bigger than her first! 43 inch BU! Nice fish girl!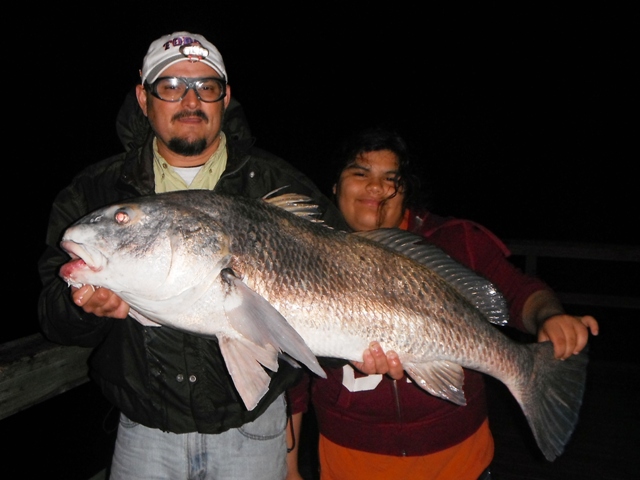 We had only been there 45 minutes and we already had 4 fish on the deck. Great beginning to another good trip. We waited for another hour and we were BS'ing with Ray and telling him what we caught when a rod takes off. Andie was not afraid to take the rod. AGAIN! We were uncrossing lines and such trying to get her fish in when another rod takes off. I ask Ray if he wanted it and after just a bit of hesitation he's onto a nice fish himself. DOUBLE!I guess the wait was wroth it. After a bit both fish were on the pier ready for a picture! Great catch Guys!~ i hope you enjoyed it Ray!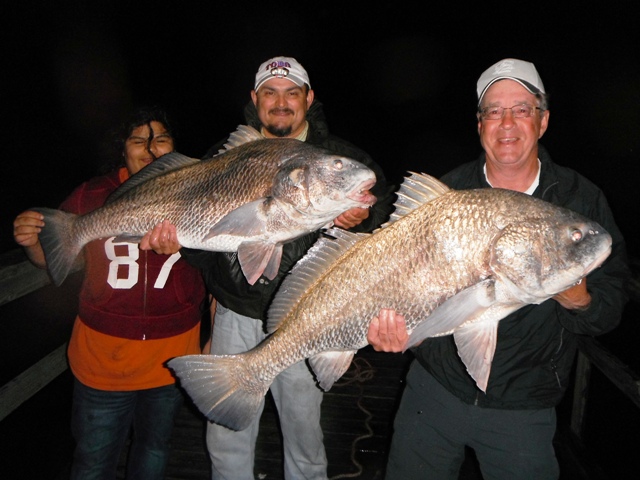 After about another 30 minutes one line slacked of and I tightened the line. Look what was on the other end.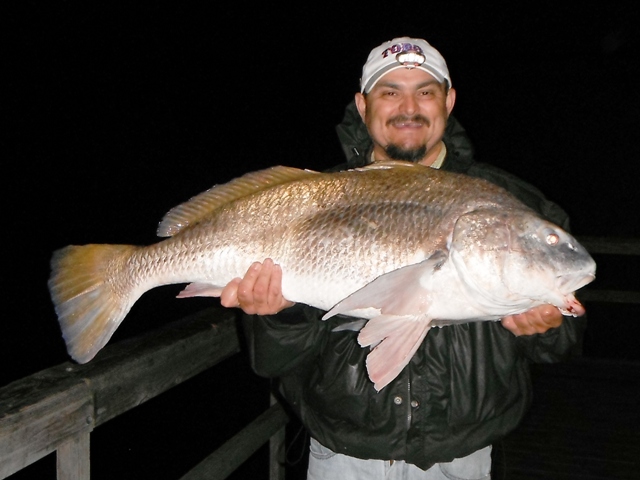 Ray asked if we were going to be around for another 30 minutes or so and I said are you kidding me? I have 30 crabs in the truck! We sat around for a while when Ray and his wife show up. He asked if I could show him a picture of his fish and since I really did not know how to operate my new camera and was afraid to erase any pictures I did not show his wife the first fish he caught. Luckily for him a rod went off right before he was about to leave. Look at what his wife was able too see him catch! NICE fish Ray. It was a pleasure fishing with you.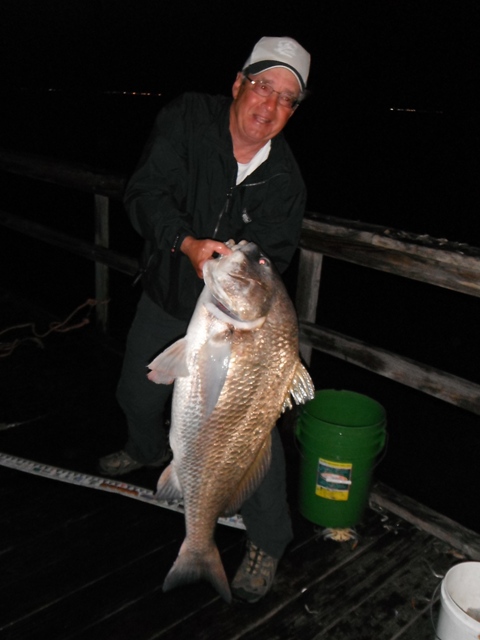 After missing a couple of fish we finally get this fish on the deck. this girl is becoming and animal when it comes to horsing these fish to the net. Another HUGE fish for Andie!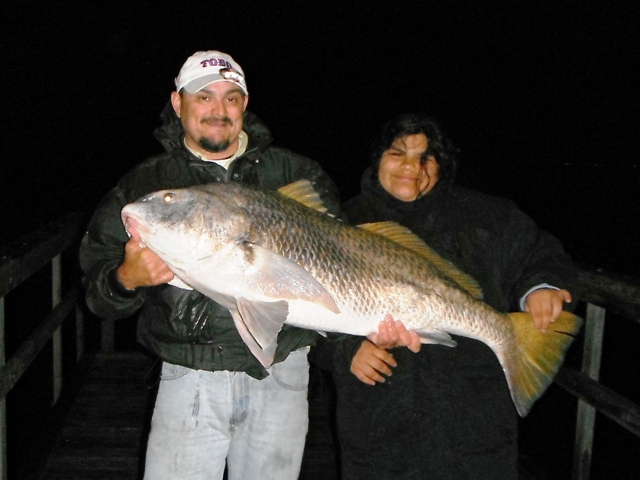 Today we landed a total of 10 BU's with a size ranging from 39 to 43 inches.
The 2012 Spring Break Adventure is not over yet.
Make sure you check out the following days!
Day TWO!
GISP Pier, Lamar Texas
Team C.B.F. scores again!
I thank God for blessings he has given this family!
Until next time God Bless and good luck!
FISH HARD or STAY HOME with your MOMMY!
---