Final Weekend of Spring Break!
GISP Pier, Lamar Texas
The Story:
The Castillo family and ours have been friends for many years. Ever since we met at T-ball practice with the boys. We've been getting together since then. This year was no different. We did have some scheduling problems but we were still able to fish one day together. They decided to bring some neighbors to see if they can get into the action too. Anthony and Ashley also decided to come down and get themselves some. The kids show up at our house on Friday night and we head out to GISP first thing in the morning. We get to Ricardo's camp around noon ad the BS'ing begins. We head over to GISP to insure we get a good spot for the night. Luckily there was only one man next too us and he left before we caught out first fish of the trip.
Here is what we caught.
Anthony with a very respectable 39" BU!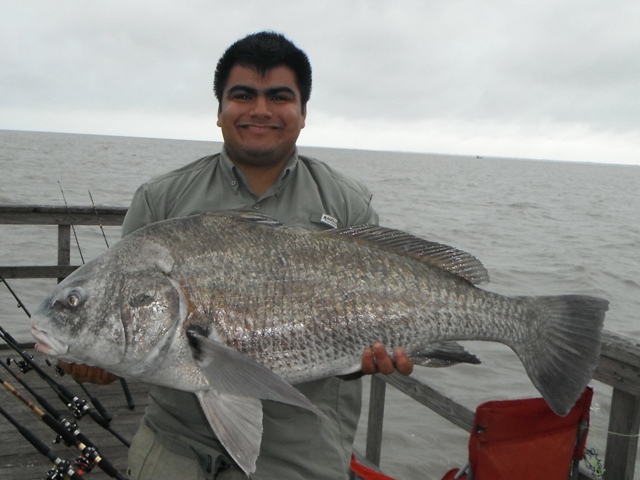 Ashley with one just a little bigger (41") than her husbands!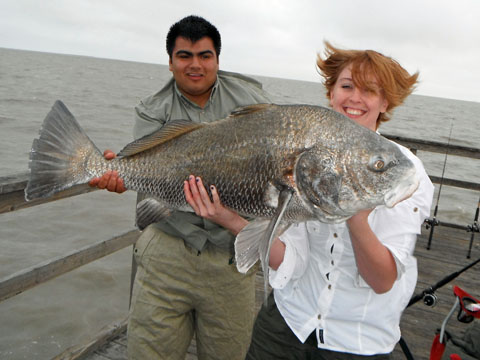 We missed a few but shortly after that Miles brings one in! Nice fish Miles! Miles is Jr's friend from Texas Tech!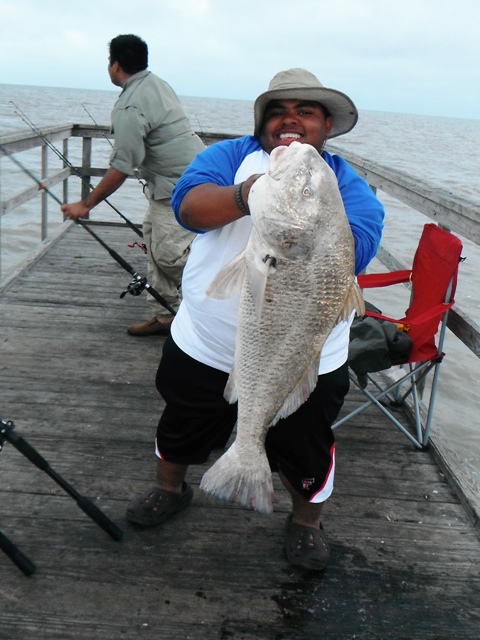 Richardo Jr. with his own big fish! Show your daddy how!
Did anyone notice that it is still daylight and we already have 4 fish on the pier? It's going to be a great night!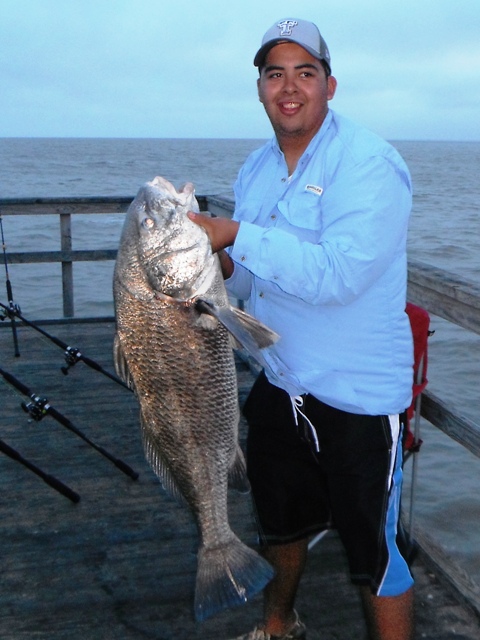 Sorry Jr., Dad knows how to bring them in too! Nice fish Dawg!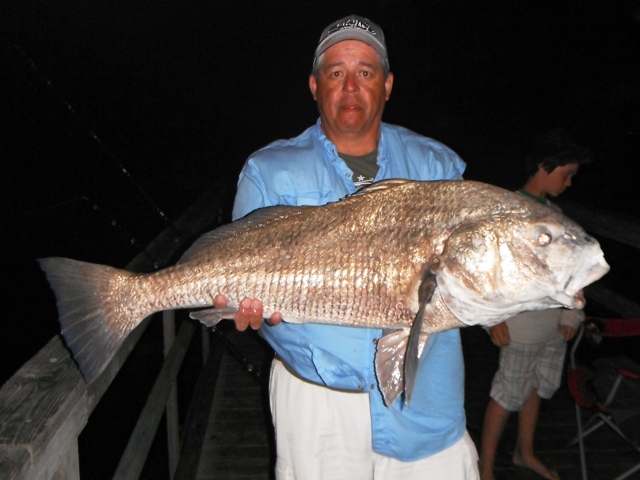 After that it was little Clayton's turn! I know your daddy is very proud of you. Keep it up!
Not a bad fish for a first grader.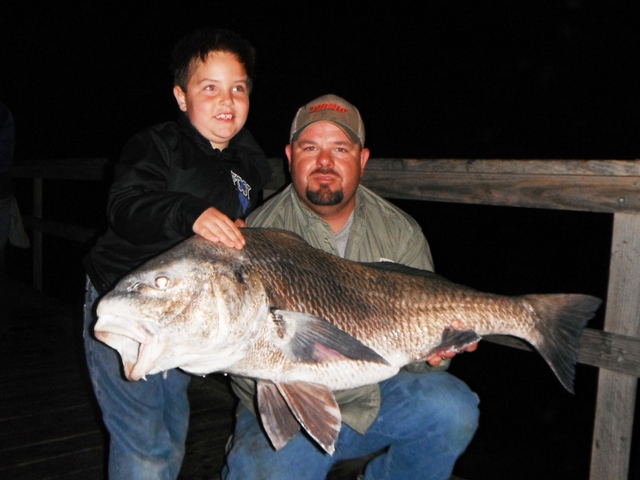 With all those fish being caught Andie could not wait a minute longer. I know your daddy's proud of you.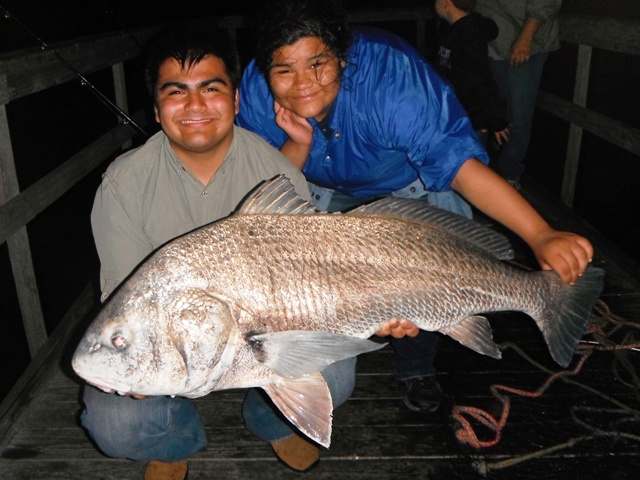 After that Lorrie wanted to give it a try. I know your daddy is very proud of you. Keep it up! That is a very big fish for a 2nd grade girl!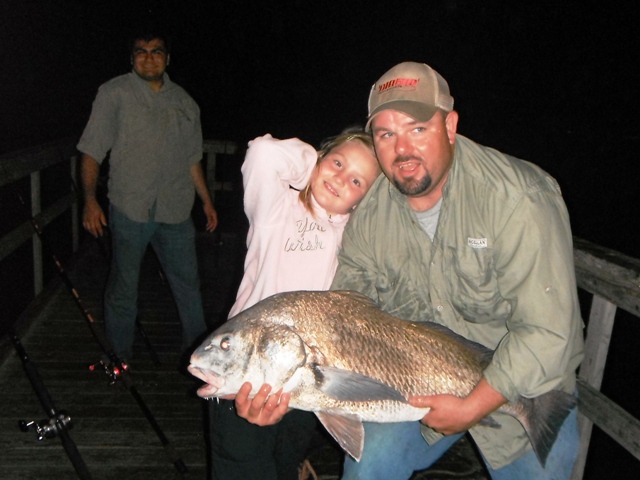 Priscilla decided to take a rod after nobody jumped up and said they wanted it. It seems that she knows when the fish on the end of the line are BIG!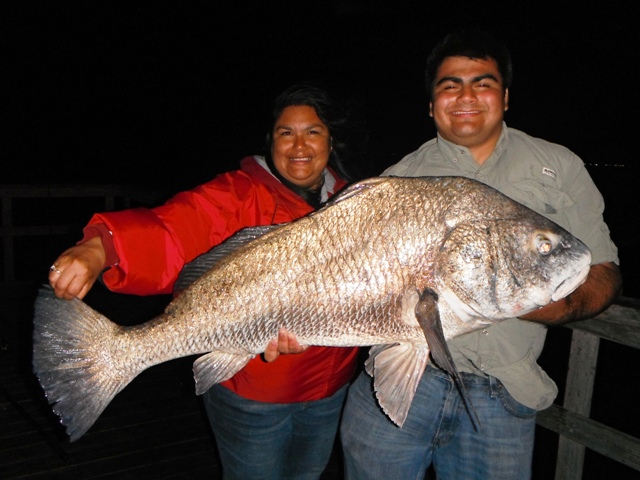 After seeing her kids bring in a fish and feeling confident Beth eventually takes a turn! After a brief fight she brings in a very respectable first BU! WTG!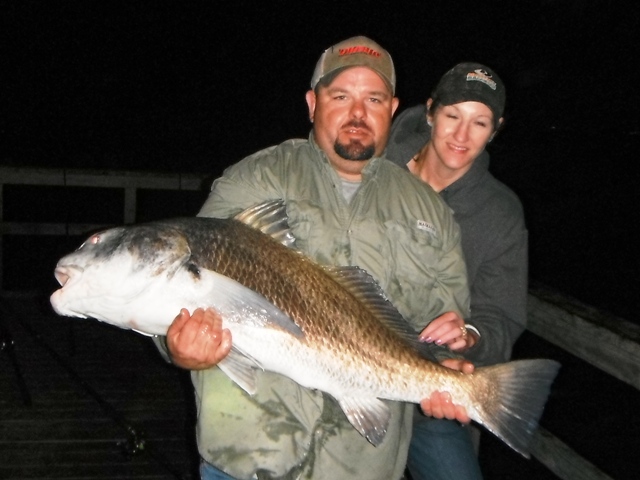 After a very long run I set the hook and advised everyone "This one is MINE"! I think Clay thought I hand them ALL off!
The CREW!
It would have been a rough night if everyone was not helping out like they were. Thanks guys!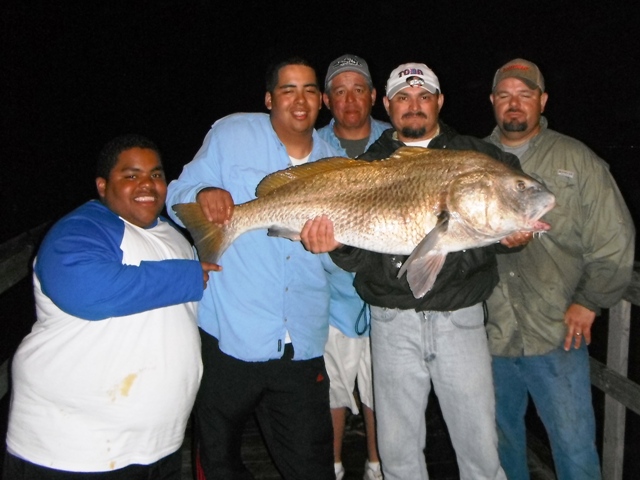 Clayton with his own big fish! I think he thought he was going to be the only one in his family not to get one.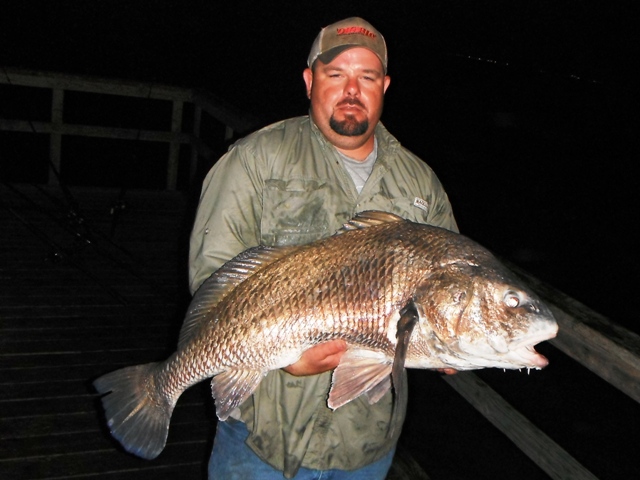 After Clay's fish (#13} the wait began. I really did not want to end up with thirteen fish for the night. It must have been well over an hour and starting to get late before I decided to rebait and cast them out again! It looked like most were already getting tired and ready to head out.
Fresh bait is all It took! It was not ten minutes later Richardo had this one on the deck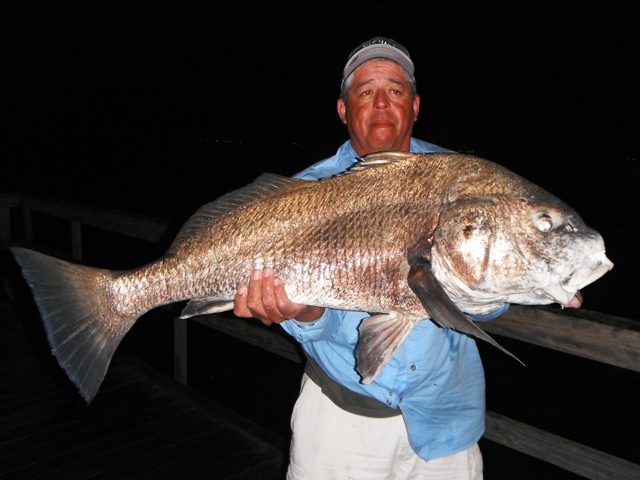 As soon as Richardo threw his fish in the water Clay had one on!
The Neighbors with a fish and good memories!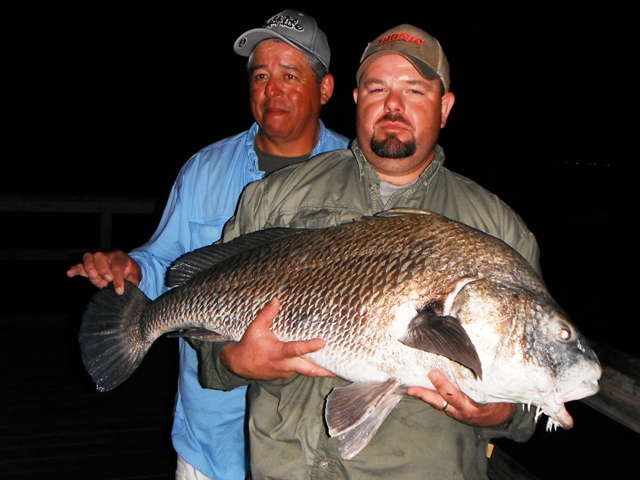 Today we landed a total of 15 BU's with a size ranging from 39 to 44-1/2 inches. I had a really GOOD time meeting and fishing with ALL of you.
Nothing better than fishing with friends old and new!
Day THREE!
GISP Pier, Lamar Texas
Day TWO!
GISP Pier, Lamar Texas
Day ONE!
GISP Pier, Lamar Texas
Team C.B.F. scores again!
I thank God for blessings he has given this family!
Until next time God Bless and good luck!
FISH HARD or STAY HOME with your MOMMY!
---